Saint Josemaria was born on January 9, 1902. Here are four videos about his life and teachings.
For Saint Josemaria's birthday on January 9, we offer some excerpts from an article published by "Real Clear Religion" entitled "The Tweetable Saint."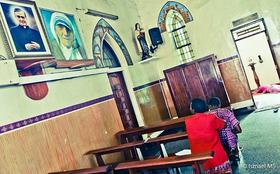 A new video of Saint Josemaria offers 44 brief clips from his oral preaching between 1972 and 1975 in Europe and Latin America. It can be downloaded or purchased from Beta films with English subtitles.
"Let us ask our Lord then to make us souls devoted to the blessed Eucharist, so that our relationship with him brings forth joy and serenity and a desire for justice. In this way we will make it easier for others to recognize Christ; we will put Christ at the centre of all human activities. And Jesus' promise will be fulfilled: I, when I am lifted up from the earth, will draw all men to myself. (Jn 12:32) Christ is Passing By, 156
On this feast of Corpus Christi in cities and towns throughout the world, Christians accompany our Lord in procession. Hidden in the host he moves through the streets and squares — just as during his earthly life — going to meet those who want to see him, making himself available to those who are not looking for him. And so, once more, he comes among his own people. How are we to respond to this call of his?
The external signs of love should come from the heart and find expression in...

"The holiness that Our Lord demands of you is to be achieved by carrying out with love of God your work and your daily duties, and these will almost always consist of small realities."
SAINT JOSEMARÍA

, Founder of Opus Dei